Vibration Diagnostic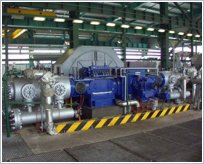 Vibration diagnostic systems can make production more efficient by reducing maintenance costs and increasing reliability, as well as eliminating unnecessary downtime and outages caused by suddenly occurring unexpected faults.
The ExpertALERT vibration diagnostic system, used by us and recommended by other experts, is an expert system comprising the knowledge of experienced engineers of the American company DLI Engineering Corporation, gathered throughout more than 40 years in form of mathematical functions and logical rules, all put together in the knowledge database of a software of artificial intelligence.
This system makes the life of vibration diagnostic and maintenance professionals highly efficient by helping them to determine safely the circle of machines operating in good condition or identify faulty machines and their specific fault, or define the severity of a problem and the urgency of repair or maintenance work needed in case of a problematic machine.